PA Hire
Whether you call it a PA , Sound System or Sound Rig , we have a great range of sound system rental packages on offer. Active or passive PA systems for clubs to full size festival rigs.
Our PA can be hired separately or as part of a package.
It offers a high quality audio experience for the performer and audience whether used for music or speakers at a rally.
Our speakers come with smart red covers for outdoor events where rain is expected.
Audio specification
The specification for our PA is:
15,000 watt OHMS powered sound system comprising of 4 wedge monitors
2 mid range speakers, backed by 2 puck sub bass bins
1 Allen & heath 24 channel professional mixing desk
5 high-powered OHMS amplifiers
2 wireless vocal (Shure PG58) microphones
3 wired vocal (Shure SM58) microphones
2 wired instrumental (Shure SM57) microphones
1 wired instrumental (Sennhieser E606) microphone
4 piece (Shure) drum kit microphone set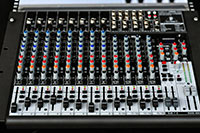 Our system comes with a high quality multi-channel mixing desk.
If you have any special requests please contact us.