ES32 Mobile stage for hire
The ES32 is 32m² ( + PA Wings). The stage is a great focal point for any outdoor festival, it becomes a lighting designers dream while the costs and rapid setup and removal time satisfy the tightest of budgets.
We don't supply the lighting and PA but we can put you in contact with companies we work with who can supply the Lighting and PA equipment.
We have two larger stages, the 48m² ES 38 and the ES42 stage at 61m² .
---
ES32 Stage specification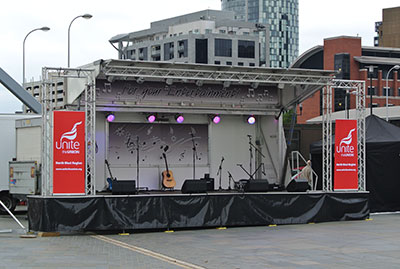 Total frontage – 10 metres (33 feet)
Main stage – Width 7 meters (22 feet)
Depth 4.5 meters (14 feet)
PA wings (optional) 1.6 meters (5 feet)
Stage weight 3200 kilograms (3.2 ton)
Stage comes with side access
Disability access ramp available on request
Construction time: 45 minutes
Stage floor slip proof, weather proof
Power requirements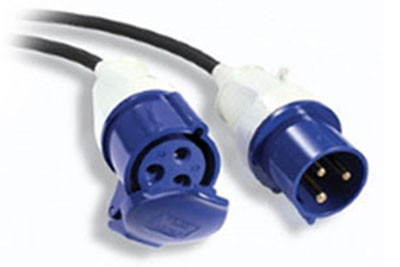 Our stage requires 1 single-phase 32amp supply.
A generator can be supplied at extra cost.
The stage has been designed and developed by Evolution to be lightweight and easily sited and erected on almost any terrain.
Should you require installation on delicate surfaces or very uneven cambers a pre-event on-site visit may be necessary.
Branding our mobile stage for your event
There are several spaces available to promote or advertise your event or sponsors logos on stage in banner form these can be seen in our photo gallery, option sizes are as follows:
1 x main stage rear space 3200mm wide 1200mm deep
1 x top canopy space 6300mm wide 550mm deep
2 x pa wings (mesh banners to allow sound to travel through them) – 1150mm wide 3000mm height
---
Gallery of previous events