ES42 Mobile stage for hire
With over twenty years experience in the entertainment sector hiring mobile stages we cover events ranging from some of the UK's largest festivals to village fêtes and galas. Our ES42 stage is ideal for small to medium sized events of all types, from arrival on site, to fully operational, your stage is typically erected in just 2 hours without any compromise to sound quality or visual satisfaction. The stage takes approximately 90 minutes to de-rig.
We offer disabled ramps for all our stages. Please call us to discuss the needs for your event.
We have two smaller stages, the 32m² ES32 and the 48m² ES38.
This stage is 15m x 6m including PA wings. It has a 61m² performance area.
We don't supply the lighting and PA but we can put you in contact with companies we work with who can supply the Lighting and PA equipment.
Stage comes with two access steps – One either side. We also can provide extra space at the side of the stage for a cowshed.
If you would like to take advantage of the branding opportunity on the mobile stage the PA wings will need banners. These would need to be made from mesh so the sound from the speakers can travel through them. Banners for the PA wings on the ES42 mobile stage are 3200h x 2100w.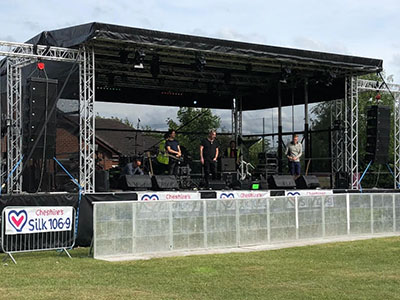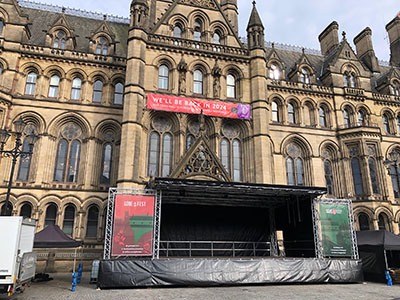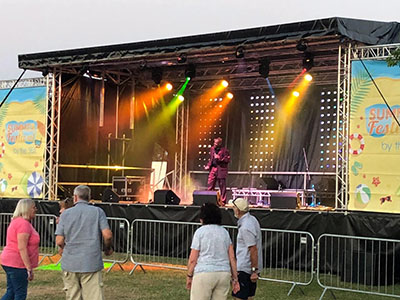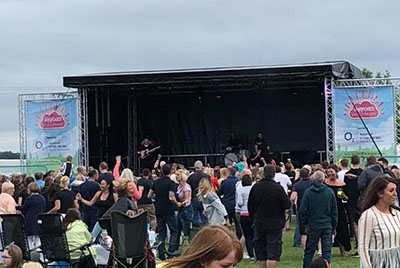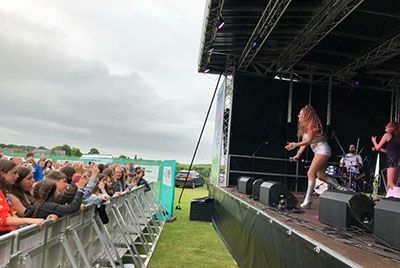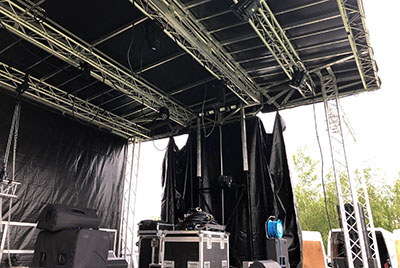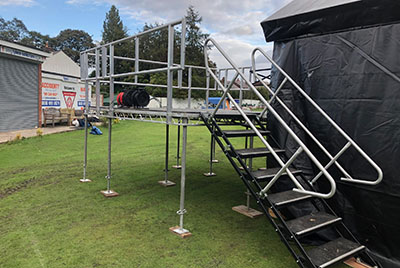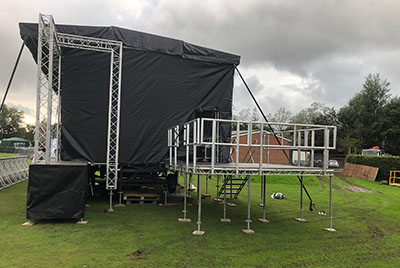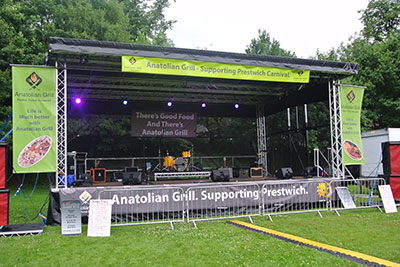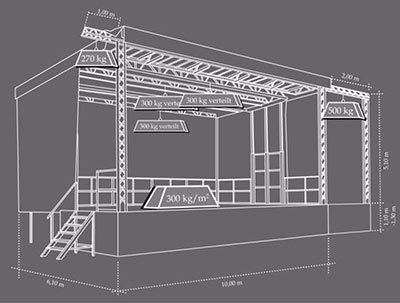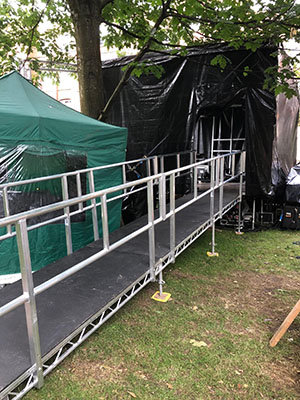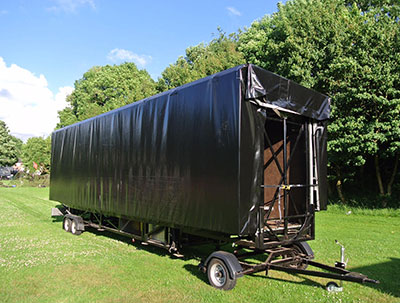 Branding our mobile stage for your event
There are several spaces available to promote or advertise your event or sponsors logos on stage in banner form these can be seen in our photo gallery.
---
ES42 Stage specification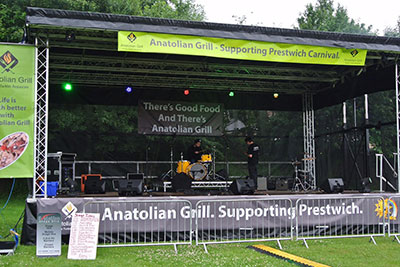 15mx6m including PA wings
Stage dimensions; 15m(w) x 6m(l) x 5.5m(h)
Stage Clearance Height: 4m(h)
Stage area; 61m²
Platform height; 1m – 1.3m
PA / Sound Platform Wings
Mesh banners for the PA wings on the ES42 mobile stage are 3200hx2100w
Roof: Intelligent Hydraulic Roof System
Roof Safe Working Load: 300kg (75kg per beam)
Stage platform loading; 300kg/m2
Max wind speed; 37.28mph (with mesh)
Construction time; 120 minutes
Back wall & Sides: Plain Black Mesh. Custom can supply your own Branding
Stage floor slip proof, weather proof
Recommended audience Size 200 – 5000
Disability access ramp available on request