ES34 Truss Mobile stage for hire
The ES34 6mx6m Truss Stage is ideal for medium sized outdoor events.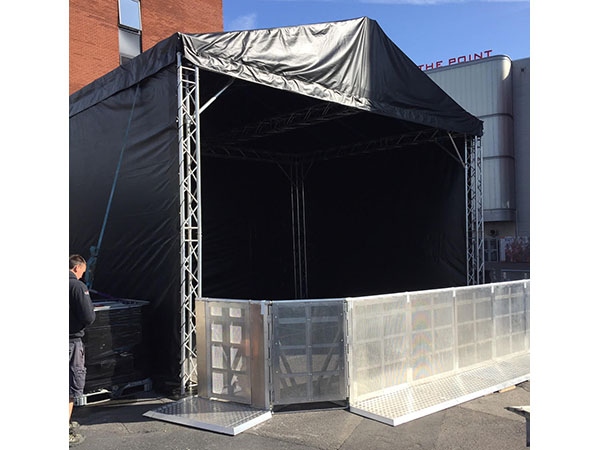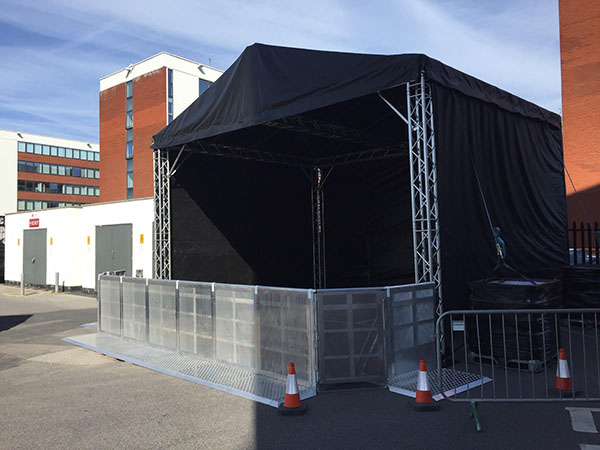 ---
The Stage has 34m² performance area and this stage will comfortably fit a medium sized band or choir and is generally suited to small to medium sized events.
We can also attach PA wings to this stage.
The stage has plenty of space for adding your own banners can be placed on the truss supports, banners can be hang on the rear truss.
The rear and side walls are all separate  sheets, allowing you the choice of if you wish to leave a particular or all sides open. The side sheets also have a zip open door in the covers allowing access onto the stage as well as the option that the section downstage of that door can be rolled up to allow better access.
The Stage flood can be 600mm or 900mm.
We don't supply the lighting and PA but we can put you in contact with companies we work with who can supply the Lighting and PA equipment.
We offer disabled ramps for all our stages. Please call us to discuss the needs for your event.
We have two larger stages, the 48m² ES 38 and the ES42 stage at 61m² and the smaller ES32 at 32m²
ES34 Stage specification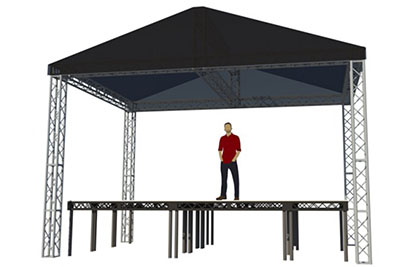 Stage size: 6Mx6M
Performing area: 34M²
Stage flood can be 600mm or 900mm.